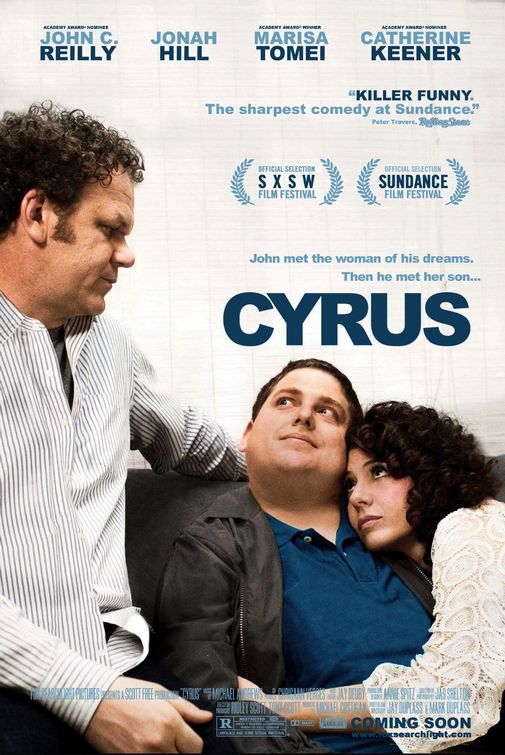 A couple weeks ago, I dragged an old Favorite Friend of mine from school out to Crooklyn to the New York premiere of "Cyrus," the new film starring Marisa Tomei, John C. Reilly, Catherine Keener and the ubiquitous Jonah Hill.
Tomei and Reilly, Brooklyn natives, were
introducing the film at the opening of the
BAMcinemaFest
; post-viewing, they were to be mingling in the crowd with us plebes, where beer and scotch sponsors gave us all free drinks and hot dogs and sugar-coated peanuts.
There were so many hipsters there that I think my bud and I were the only two who had circulation to our feet.
It was awesome.
A
PopSci
colleague gave me the tickets after he heard me chewing the fat about how much I wanted to see the film, and how
I'd likely die if I ever saw Marisa Tomei in person
-- the tickets were very much appreciated.
I'm sure we've all seen the
trailer for
Cyrus
by now, and the premise is pretty original. I'd been waiting months to see Hill play Tomei's son (not to be impolite, but ... such a spawning could never happen, I'd dare to say), and
John C. has been a favorite for years
.
Reilly plays the Loserville guy, John, who meets the woman of his dreams, Molly (Tomei). Suddenly, he's rapt by love, his life is going to go somewhere, he's head over heels.
Then.
There's Cyrus (Hill), and he's rather Hell-bent on his Oedipal Complex; he's not too keen on having the likes of some guy moving in on his mother.
Catherine Keener plays Reilly's ex-wife, Jamie, in a weirdly amicable divorced situation - she champions Reilly to plug on after Tomei, and if you can suspend reality enough (or just wish that it was always that peachy), they have an endearing relationship that helps you root along Reilly/Tomei.
Jonah Hill is hilarious, as always, in his weirdo persona as a 21-year-old son who's too protective of his hot mother; Tomei is just ... breathtakingly gorgeous as always, and endearing to boot; and, we always root for John C. because -- he's got a root-for face.
I really loved the movie -- kooky, weird, unbelievable, sure ... but, fun.


I leave you with a favorite Tomei scene from "My Cousin Vinny."